What You Need to Discuss with Your Eyelash Technician before Booking an Appointment
December 5, 2019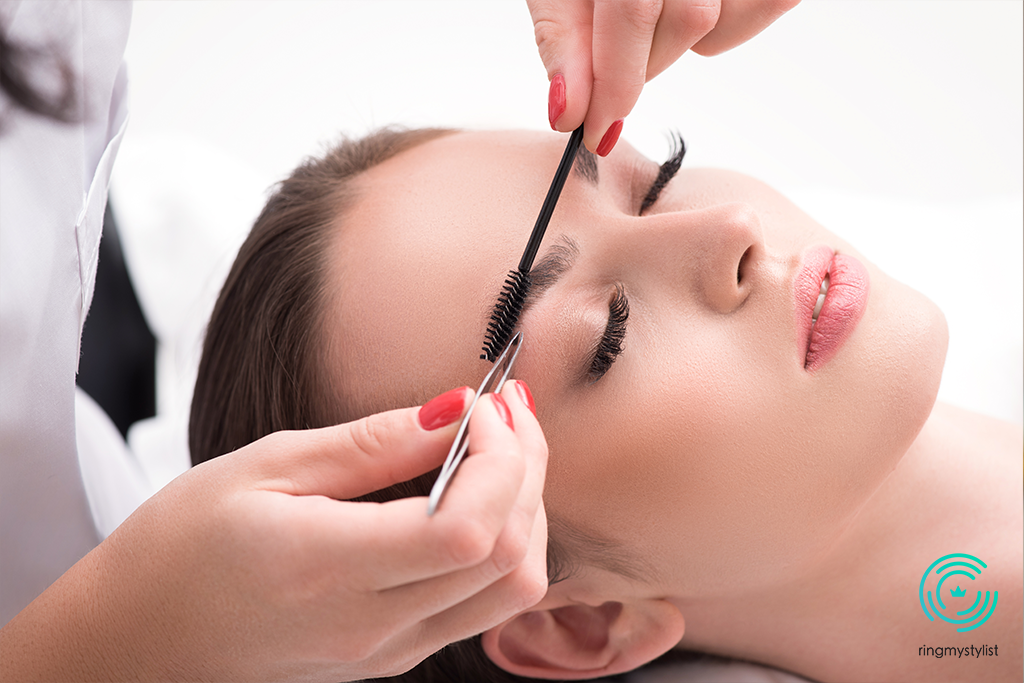 When it comes to fashion, all of us have the basic knowledge and sense of it, but there is no harm in admitting that with the advent of newer technology that is bringing about a wave of innovative, advanced cosmetic procedures, even the best of us can be clueless. Cutting edge technology is changing the face of the fashion industry: while there are time-saving apps like Ring My Stylist that lets you book appointments on the go, there are also newer and more glamorous ways of beautifying yourself. Yes, we are talking about eyelash extensions!
Who could have thought we could make out eyelashes look thicker and longer for weeks on end and waterproof mascara would be a thing of the past? But it is now the stuff of reality and, quite naturally, is becoming a very widely performed procedure by eyelash technicians all over the world. Just like hair extensions, eyelash extensions are hair the shape and size of our natural lash hair made of different synthetic materials attached with glue to our lash line, embedded and made to look just like our natural eyelashes, as if we were born with it!
In any cosmetic procedure, you, being a customer, are bound to have questions. And since it is not merely something you are buying but something you are having applied physically on yourself, it is all the more normal and just for you to have questions and confusion which you feel should be discussed with a professional. So before you use Ring My Stylist to instantly book an eyelash technician's appointment, we suggest you refer to this list we have made for you of things you should discuss with your eyelash technician:
#1 How much will you be charged?
It might sound petty in your mind but there is no use asking details of the procedure if your purse does not allow for it to be performed. When you ask your eyelash technician the price, you will get to know more than just the price as their charges depend on how experienced they are in the field, how well they do it and their explaining of the charges will also inform you of the number of lashes per eye they are going to use (it can be between 80 to 150 lashes per eye) and the cost can be anywhere from $150 to $350 depending on the number of eyelashes as well as the material being used. And it does not end there as there are additional touch-up charges of around $100 to $150 every two to three weeks. So if you have more than $500, you are good to go and make sure your technician matches your expectations of price.
Human hair lashes usually cost more than animal fur or silk (man-made lashes) so discussing the price would also bring about the kind of material your technician intends to use. So make money your first priority when discussing details and you will be off on a good start!
#2 Are you allergic?
Share any allergies you have of animal fur, silk or any materials your technician uses or intends to use. You should also share any eye problems you have so that they know beforehand what they are dealing with and how careful they have to be.
Make sure to ask your eyelash technician what kind of eyelash glue they intend to use as some of them contain formaldehyde which is irritating for the eyes; you want medical-grade glue that is known to not be problematic. Moreover, the gel patch or tape on which your eyelashes are placed could contain inflammatory ingredients so make sure they use safe apparatus. To ensure all of this, you first need to ensure that your eyelash technician is licensed and state-approved so that you can better trust them. After all, it's a matter of the most sensitive organ of your body.
#3 Will it hurt?
The procedure is not invasive at all and the chances of it being painful are close to none but for your own satisfaction, it is okay to ask your eyelash technician if it will hurt. The answer should be no because your eyes would be shut throughout the procedure and there would no poking whatsoever, only gentle taps.
#4 How long will it take?
You need to know how much time you are going to spend at the salon and how long you would have to lie there with your eyes closed. Typically, the procedure takes two hours depending on the number of lashes. Each lash has to be carefully glued and placed at the right spot. Colored lashes are expected to take a few extra minutes. When it comes to touch-ups, they usually take half the time and are done quicker.
#5 How long will they stay on?
Some people think that eyelash extensions stay on forever but that is a utopian concept because, in the real world, eyelash extensions shed at the rate of natural eyelashes which is around six to eight weeks. Even though it is the same with all extensions, we suggest you discuss it with your eyelash technician and get an expert opinion before getting the procedure done.
It might be a short period of time according to some and not worth the money but, apparently, we have yet not reached the highest extent of hair extension technology. Until we do, the estimated two months of glorious lashes are what we have and love.
#6 Is it dangerous?
In most cases, it has been observed to be safe and harmless but it would be wrong to say that no one has ever been hurt in the process. There does exist the possibility of the procedure going wrong in different ways: the extensions sticking on to a natural eyelash and pulling it could be a painful experience and if the curve and material of the extensions do not suit you, you could feel some discomfort. Therefore, it is best to discuss precautions and things that could possibly go wrong beforehand so that, just I case things do go wrong, you know where to go and what to do. It is suggested to go to an ophthalmologist in cases of infections and inflammations.
Another possible problem due to the pulling of extensions could be traction alopecia which is a temporary or permanent loss of natural eyelashes. This greatly depends on how the extensions are applied so it is necessary you discuss the procedure with your technician and learn how exactly he or she goes about the process so that you feel safe and satisfied.
#7 Can you apply mascara?
It is almost natural to ask what you can and cannot do with the artificial hair you would then have, so go ahead and take an expert opinion on it. Mascara could make the extensions clumped and hard if done too often as hair attached is thick and voluminous itself to not need any more curling and hardening. It would best to leave them alone, thick and glorious!
#8 How to look after them?
Anything you invest money in should be taken care of and looked after. Likewise, educate yourself by discussing it with your eyelash technician on how to look after your manmade lashes. Ask him or her about what products to use and not to use, how to wash them if at all, what makeup products are safe to apply, how to remove makeup if you apply any and what to do if you feel the need to scratch.
We agree, these are a lot of questions and you might not be able to memorize them, but once you start discussing anything about your interest in getting eyelash extensions, we are sure you will be drawn to the questions, queries and their answers yourselves and will get to know a lot of things you did not before. Your body is a temple and you need to know all the details of things and people who enter it. So do your research, call the eyelash technician you have been considering (after, of course, reading their reviews and looking at their previously done work) and sit down with them to have this detailed discussion about the procedure, the side effects, the results and whatever else that bugs your mind.
Once you are past the process of carefully considering both the eyelash technician and everything about the procedure of application, you will be good to go. It would then be the best time to not bother anymore with texts and calls because you have an app that would do all the booking for you while you sit comfortably and make a few taps on your phone. Yes, we are talking about the solve-it-all features of Ring My Stylist app which is the dream of every person who hates calls and every business professional who wishes to expand their reach. So do your homework and let Ring My Stylist do the rest for you!
Back to All Articles