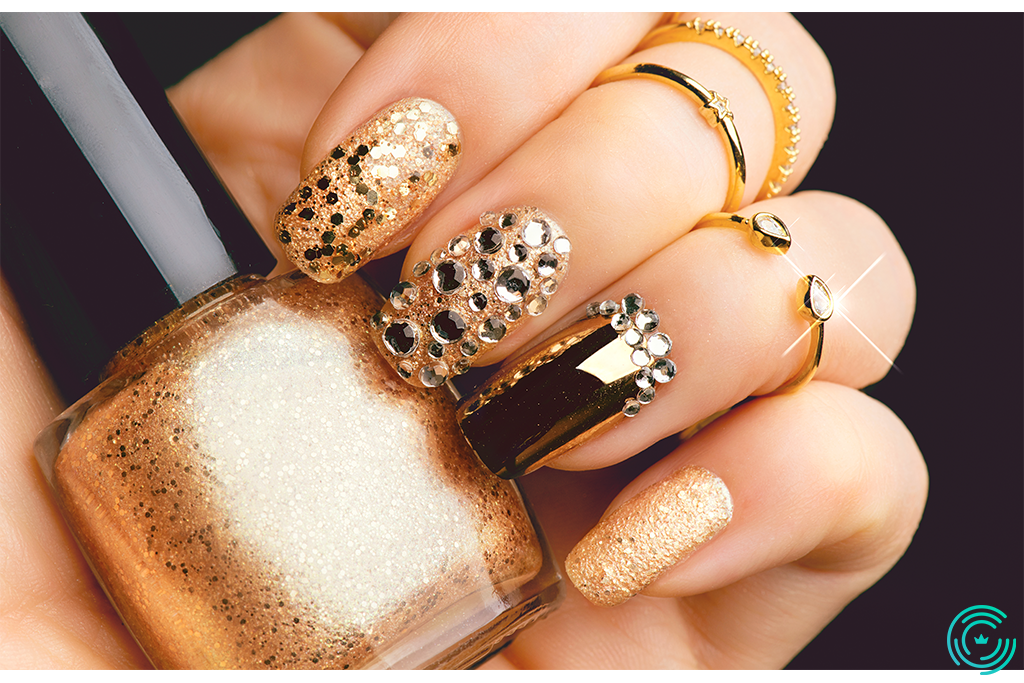 "Any woman can wear a great outfit, but it is her nails that make a statement." – Tammy Taylor
We couldn't agree more with Tammy Taylor, the owner of the leading nail company in the industry, on this quote as it's clear that you should never consider an outfit complete unless your nails are done. It doesn't always have to be a full acrylic job each time, but even a coat of simple mauve nail polish binds your whole look together expertly. If you're precise with art, you can do the job at home, or for a more efficient result, you can go to your trusted nail technician. However, the question of a packed time schedule inevitably arises, which limits the possibility of leaving the house and spending hours waiting for your turn at the nail salon. In times like these, you just wish someone could do your nails in the ease of your own home, where you can finish small tasks while getting your nails and be totally comfortable and relaxed. Well, worry no further, because a quick and easy solution is finally here. With Ring My Stylist, you can book an appointment with a professional nail technician to do your nails at home. To find out more about this app, read on to see the different kinds of nails you should get for every occasion and the quickest way to get them done professionally. 
1 Nails by Occasion
Even though soft, nude-colored nails work for basically everything, that tactic would get boring pretty fast. To change things up every now and then, there are different shapes, colors, and types of nails for you to rock at every event and on any occasion. Not only does this bind your look together ideally, but it also shows off your advanced sense of style. Having groomed nails is one of the greater parts of a good first impression, and they make you feel badass, so what's the downfall really? No matter how fashionably detailed, your outfit will always be incomplete if your nails aren't done, especially when observed by someone who knows a thing or two about fashion. Thankfully, you can book an appointment with a professional nail technician to arrive just hours before the event by using the Ring My Stylist app. Read on to find out what kind of nails are perfect for the following events. 
2 Wedding Day
So, it's your big day, possibly the most important day of your life. You obviously want to look your best, even perfect, and the smallest of details being missed would not be tolerated on this happily eventful day. After the dress and accessories, the major details of your appearance include hair, makeup, and nails. We'll discuss nails, obviously. If your wedding is a white one, then your nails should match your bright dress. We're talking white, squared-shapes or round ones, decorated with either glitter or lace to match your dress. The glitter is ideal for a glam-loving bride and the lace for one who leans towards a sophisticated style.
3 Prom Night
The long four years of high school are finally over, and you get to party with all your friends before it all ends; what's there to not love about prom night? This is an event where you get to dress up, in glitters, sequins, and sparkles, in just the way you want, with no restrictions of a school uniform or dress code. We all know a prom look is seriously incomplete without glitter all over your dress, makeup, and nails. On the topic of nails, it's worth mentioning that statement, long nails look best with prom dresses. Experiment with coffin-shaped, glitter-coated nails to show off your glam at prom.
4 Everyday Casual Chic
Yes, your nails should definitely be groomed for casual outings every day. You'll be surprised at how quickly you'll form a reputation of a sophisticated fashionista by following that tactic. Of course, it doesn't have to be anything vibrant or over-the-top. In fact, mauve or beige shades for your nails work ideally for an everyday casual chic. Whether you're rocking a navy blue and khaki outfit for a Sunday brunch, or a black power suit for work, mauve and beige are colors that will work with every color of outfit you'll wear. A quick coat of neutral-toned nail polished works wonders for any look. 
5 Clubbing
After a long hard week of work or school, you've arrived at the long-awaited weekend; what's the first thing you plan on doing on that Friday night? Partying, obviously! Get your favorite sequined dress on and the high heels you can always comfortably dance in and head on over to your favorite bar or club. But wait, don't forget the utterly important detail of nails. For a club night like this, you got to go for something sparkly and bold. Choose a glimmering, glitter version of the color of your dress for your nails and opt for a square shape or perhaps almond or mountain peak.
6 School
Yes, we're aware some people don't prefer to dress up for school, but if you're much like and pretty fashion and glam obsessed, then you know exactly what we're talking about. Some schools have strict dress codes, or even worse, uniforms, which don't allow you to do much to alter your outfit to look trendy and chic. What you can do, however, is put on a little makeup, or accessorize your hair, and get your nails done every few weeks. You could stick with the simple beige theme, or you could go for navy blue since it's professional enough for school. Opt for the sophisticated and simple almond shape or maybe round if you're feeling it. 
7 Summer Holidays
Whether you're going to a tropical island for summer vacations or just spending time, unwinding at your local beach, you need a suitable summer holiday attire. It's obvious that summer calls for bright, vibrant, and happy colors like yellow, pink, orange, green, and light blue. Incorporate those colors not only into your summer outfits but also your summer nails. Whether they're transparent nails ombré-ed into a vibrant orange or a glossy but opaque yellow theme, the basic consensus is that summer nails need to be bright and colorful and eye-catching.
8 Christmas
On the other hand, we'd also like to talk about the ideal nails for Christmas. It's the most wonderful time of the year, and most people are dressed in white, or dark shades of green and red. If you are too, then it's best to match your nails with the merry occasion. Of course, we don't advise going all out with detailed drawings of Santa and mistletoes on your nails, since that's a little over-the-top, but we do recommend sticking with the red, green, and white color scheme for a festive touch. If you're looking for the perfect, ask your nail technician to draw a delicate snowflake or two on your nails.
9 Book an Appointment with A Nail Technician
You're probably wondering, now that I know the exact color and shape of nails to opt for on certain occasions, who do I hire to do them expertly and without wasting too much of my time? Well, we've got the perfect answer. All you have to do is download the Ring My Stylist App, and your life is basically saved. The app has a large community of nail technicians and other beauty-related experts which you can book an appointment with, in a matter of minutes. You can search through the nail technicians, read through their experience, expertise, details, and reviews of the customers to come to a conclusion easily, and then you can contact the technician with their given details and book an appointment with them for whatever day you please. The technician will come and do your nails in the comfort of your own home.
10 Ring My Stylist
Ring My Stylist is an appointment booking app which lets you momentarily hire the expert of your choice to get your task done easily, quickly, and at reasonable prices. The stylists include hairstylists, estheticians, makeup artists, skin care specialists, nail artists, hairdresser, fashion designer, barbers, tattoo artists, masseuses, image consultant/stylists, foot masseuses, body piercers, manicurists, eyelash technicians, photo and film stylists, bridal make-up specialists, and many more. 
We've gone over the fact that grooming nails are a very important part of your appearance and your outfit would be incomplete otherwise; we've also discussed that it's difficult to make time to drive over to and spend hours at the nail salon waiting, and the comfort of your own house is just more preferable. Well, the answer to all your problems is the immensely useful app called Ring My Stylist, so head on over to www.ringmystylist.com to get more information about this software and a link to install it on your phone. 
Back to All Articles