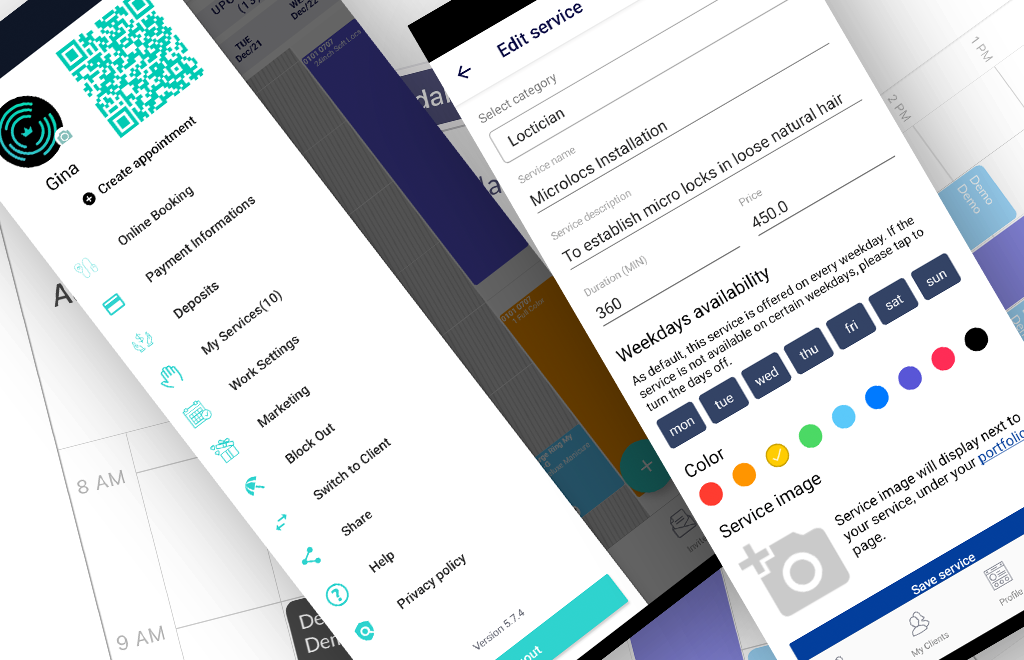 Are you a beauty professional looking for a way to organize bookings for your business? Are you a customer looking for an easier way to find a good stylist and book an appointment? Then Ring My Stylist is the choice for you. Ring My Stylist is a unique application that caters to clients and professionals.
Today, many new businesses have sprung up, which means more competition. Beauty professionals need to advertise and manage their businesses better now more than ever. This competition, too, is a challenge for clients as there is a wide variety of professionals to choose from, and at times it is also hard to find a good stylist who understands your needs. In addition to the number of professionals in the beauty industry, there are also more varieties of professions like cosmetology. You don't have to worry about that anymore with Ring My Stylist.
Benefits for Stylists:
For stylists, this app will help organize your schedule. With it, you can confirm an appointment with a client in just 3 seconds! The appointment software used by the application is so easy to use and reliable. You will have appointment reminders sent to the client to prevent any no-shows. A push notification, an email, and an SMS are sent to your client when you book an appointment, and one hour before the appointment, another SMS is sent to your client to make sure that they will be coming. This feature will boost your business immensely. Beauty professionals will surely grow their business by booking clients who understand and prefer their work style with the added benefit of a portfolio.
By using the Ring My Stylist, you can work independently and make your schedule. You can make yourself open for appointments according to your own needs by choosing when to get booked. You can choose your working hours and take days off whenever you want. You can even set hours for the time during the day when you are available.
Benefits for Clients:
Your client can also book appointments with you by checking your availability. The unique thing about his app is that it displays a portfolio for your client to go through before they book appointments. Your portfolio page includes pictures, reviews, terms, and services that you offer. This feature is not commonly present in other online and phone bookings. With the presence of a portfolio, your client will get an idea of your work and book appointments, knowing precisely the services you give. You will be attracting the correct type of clients, which you will be able to help to your full potential as you will understand your client's schedule. This technique is an excellent solution for stylists as you will end up with more satisfied customers. Isn't that so convenient?
Added Features:
We focus on keeping our clients happy and satisfied. That's why we have also included a chat option in our app to enable you to make full use of the app. You can talk to our representatives, and we will answer all your requests and queries and help you when required. Additionally, we have been working on solving the problem of no-shows, a common issue in our industry.
Ring My Stylist is a convenient app for beauty stylists and their clients alike. It offers an easy and efficient solution to the issue of organizing a business. You can schedule and make appointments with your clients within seconds and with its unique method of appointment management, like sending appointment reminders to clients to prevent no-shows. Ring My Stylist is an app many stylists and their clients have searched for.
Why Everyone Needs it:
The application is free for clients. Stylists can enjoy a free month trial, after which they only have to pay a small amount of $9.99 per month. You can even save 20% by choosing the annual subscription. The app is open for a wide range of beauty experts, including but not limited to hairstylists, hair and makeup artists, cosmetologists, esthetician, beauticians, nail artistry, therapist, micro-blading tech, beauty consultant, eyelash technicians, etc.
Not only is it easy to book appointments, but the application also makes it easy for you to work independently on your terms by making your schedule. This approach is a good stylist solution. The small price seems like a steal for all the app's benefits. If you're a stylist looking to boost your business, Ring My Stylist is the way to go!

Download Ring My Stylist, Ring My Barber, and Ring My Loctician apps.
Back to All Articles