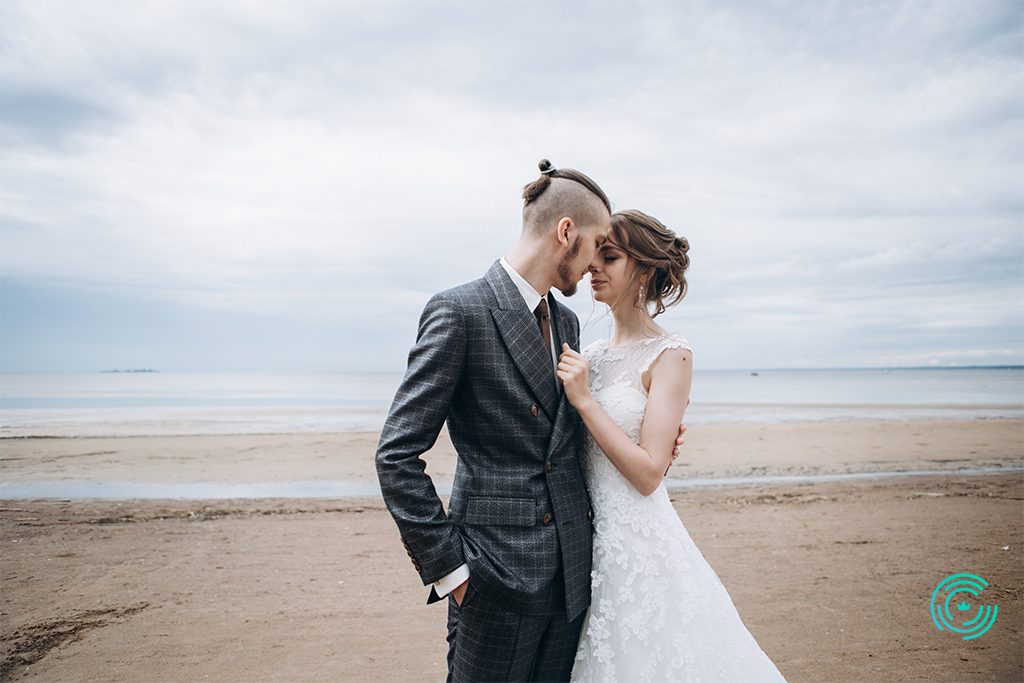 Every girl dreams of a perfect wedding and imagines herself in the most majestic wedding gown, romantic hair, and flawless makeup. Lately, beach weddings have gained massive popularity because of its glam, romantic yet laidback ambiance. There is nothing more beautiful then exchanging your vows by the glimmering ocean. Beach weddings come with a bohemian kind of décor and trendy bridal looks. These contemporary and free-spirited bridal looks are incomplete without a naturally textured and romantic hairstyle. So here we are with the list of 5 gorgeous beach wedding appropriate hairstyle that you can flaunt at your big day.
#1 Messy Updo:
A messy updo is a perfect option for a beach wedding. It will mimic the texture of natural beachy waves while effortlessly keeping your hair away from your face. This easy to create hairstyle will go perfectly with an elegant wedding gown. Upgrade the look of this hairstyle by adding fresh white flowers and metallic chains.
#2 Volumized Curls:
A sheer bridal veil looks even more beautiful when paired with healthy, volumized hair. Add tons of volume to your hair using a one and half-inch curling barrel. Slightly backcomb your curls individually and generously apply hairspray to your hair. This hairstyle is elegant and romantic, which makes it perfect for a soft beach wedding theme.
#3 Textured Half Updo:
A textured half updo is both sweet and sexy. Add curls to your hair facing alternate directions and spritz salt hair texturizing spray. Add messy swirls or go for a waterfall braid to perfectly suit the beach wedding theme. This hairstyle is the perfect option to pair with a ruffled wedding dress alongside the foamy beachy waves to create a harmony.
#4 Mermaid Braid:
If you want to go with something, soft, glam, and boho then a loose and messy braid is the right option for you. A mermaid fishtail or Dutch braid can amp up your beach wedding look instantly. Slightly pull out the braid and make it look voluminous. Embellish your braid with aquatic accessories and you are done. Frame your face with the free-falling hair and you are ready to make a statement.
#5 Greek Goddess Bun:
If you have short hair, then go for a simple bun right above the nape of your neck. Finish off the look by tugging out curled hair from the crown area and adding a delicate greek goddess inspired hairpiece. This hairstyle is very elegant and sophisticated. Pair it with a soft glam eye makeup look with glossy lips and you are ready for the most memorable day of your life.
Last but not the least, wear your hair confidently. These hairstyles can definitely make your wedding look up a notch. Select the hairstyle in accordance with your dress and theme while carefully accessorizing it with precious jewels. So, hurry up and book the best hairstylist in town and become the most beautiful beach bride ever.
Back to All Articles