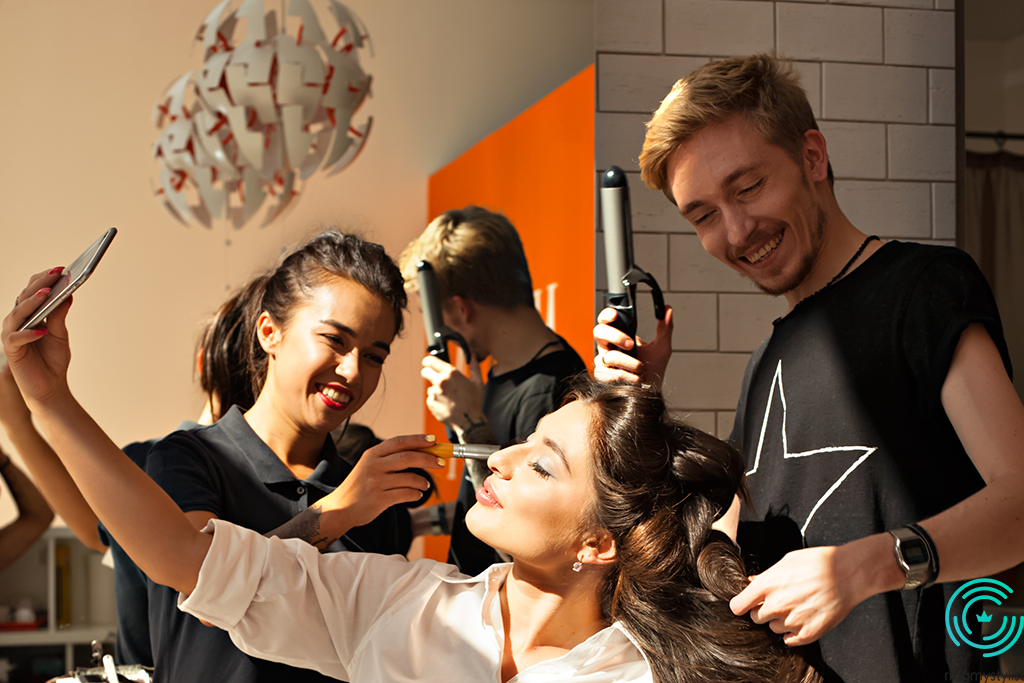 Worrying about getting long talons and unkempt Rapunzel hair? With the current situation where every trip outside home seems like a humongous task, one can only imagine the effort to book an appointment with your favorite barber or dermatologist. You could reach out to them separately or you could book all your appointments in one go! Yes, you can now have all your styling services and more in one place now without the hassle of finding different platforms to connect with them. Ringmystylist, a website and an app, lets you connect with all of your needs when it comes to staying efficient and stylish. You can avail the following services via ringmystylist.com:
Download Ring My Stylist mobile app now!
Hair Stylist: 
If you are looking for a hair-stylist or trying to book your appointment with the best barber in the town, you are in the perfect place to explore all the hairdressers around your vicinity while you read their customer reviews and decide according to your requirements.
Make-Up Artist:
As it wonderfully goes "surround yourself with make-up, not negativity," you can find a whole array of make-up artists on this app. We know it is not an easy job finding the perfect makeup artist for yourself so we have user opinions given for your benefit and ease.
Personal Shopper:
Got an extremely busy schedule or other reasons hindering your shopping endeavors? We got you covered in this by providing you a range of experienced personal shoppers who will make sure that each product you shop with them is a wise decision from the comfort of your home.
Fashion Designer:
Exploring for the right fashion designer for yourself can be a creatively difficult task. Finding a good personal stylist is another important aspect if you are looking to improve your fashion statement. While it may seem like a cumbersome job it is much easier now thanks to Ring My Stylist where you can get in contact with a fashion designer as soon as you start searching for a one.
Body Piercer:
Whether you are looking to enhance your aesthetics, conforming to culture, or in contrast trying to rebel against it by getting piercings, you can now do that from the comfort of your couch by booking an appointment with the best of body piercers available on this app. We care for your desires hence we have the best piercers available for you.
Tattoo Artist:
While you are looking to get your first dream tattoo or a veteran looking for another addition to personal art (yes we consider tattoo a sacred art) you can get it done easily as we are well equipped with the cream of tattoo artists available in town.
Therapist:
It is a pertinent decision to choose the right therapist for yourself. You can access the right therapist through the ringmystylist app because the right mental attitude is what takes you a notch higher in style, among everything.
So, whether you are looking for a barber, or looking to get that pedicure done, you can find all services related to style on ringmystylist.com because now you are literally a ring away from your best style statement.
Reference:
https://www.ringmystylist.com/
https://www.ringmystylist.com/faq/
https://book.ringmystylist.com/
Back to All Articles